Samson Introduces HighRise Mono Active Mic Booster at NAMM 2023
In-Line Preamp Adds up to +30dB of Ultra-Clean Gain and Improves Sound
ANAHEIM, CA (April 13, 2023) – Samson, an industry pioneer in professional audio products, announces the new HighRise Mono Active Mic Booster, at NAMM 2023. Designed to boost and enhance the signal of low output microphones, the HighRise provides a crisp, ultra-clean signal in a robust and small package. The HighRIse is currently available at MI retailers for $79.99.

Samson HighRise is a compact, mono signal booster, providing up to +30dB of transparent gain for connecting low output microphones to mixers, audio interfaces and preamps. Whether you are capturing spoken word for a podcast or livestream, recording in the studio or performing on stage, the HighRise provides more headroom to ensure an ultra-clean microphone signal.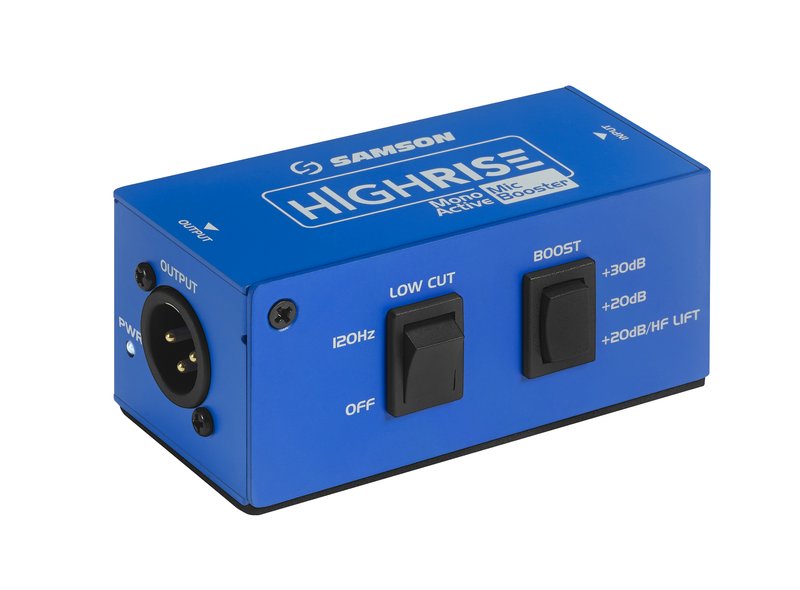 Convenient Connectivity
The HighRise works with almost any dynamic or passive ribbon microphone. In situations with low-output mics, a quiet source, or where the mic preamp lacks sufficient gain, the HighRise boosts the signal level, maintaining the natural sound of the microphone. Its high-quality preamp has selectable +20dB or +30dB of clean gain which increases headroom and allows you to achieve a usable level at the connected preamp at a much lower gain setting, thus reducing additional noise to the signal chain. It also has a +20dB gain setting with a high frequency lift for enhanced vocal presence to your performance. A selectable low cut filter removes muddiness to improve clarity in the mic signal.
Power to your microphone
The HighRise is a pre-preamp that is connected inline between your microphone and your preamp, audio interface or mixer. It runs off of standard phantom power, but it won't pass the phantom power to the microphone. This will ensure your microphone stays safe, whether it is a dynamic mic, or delicate ribbon microphone. The rugged 14-gauge steel enclosure protects the electronics and it is built to withstand the abuse of the most demanding environments.

It's all about the numbers
It features class-A biased bipolar transistors in a fully differential input and differential output arrangement for an extremely clean and transparent signal. The maximum input level is -8dBu (+20dB), delivering +12dBu at the output (at 1% THD). It has a flat frequency response within -1dB from <10Hz to 57kHz. The HF self provides a +3dB lift at 10kHz. The HighRise has a noise floor of -104dBu with 0.0042% of THD+N @ 1kHz -14dBu output (+20dB setting). The result is an optimized signal with lower noise, greater sensitivity, and improved transient response.
Key Features:
In-line, mono active microphone signal booster
Selectable +20dB or +30dB of ultra-clean gain
Powered by 48V phantom power
Provides extra headroom to your preamp, mixer or audio
interface with a cleaner, lower noise signal
Class-A biased bipolar transistors in a fully differential input/
differential output design for ultra-transparent performance
Selectable Low Cut Filter and High-Frequency Lift
Protects passive ribbon microphones from potential damage
caused by phantom power
Rugged all-metal, impact resistant design withstands the
toughest live sound environments

Specifications:

Gain: +20dB, +30dB typical
Frequency Response:
+20dB: -1dB @ <10Hz, -1dB @ 57.3kHz
+30dB: -1.5dB @ 20Hz, -1.5dB @ 73.4kHz
Dynamic Range:
+20dB: 120dBu-A
+30dB: 108dBu-A
THD+N @1kHz -14dBu output [22-22kHz]
+20dB: -34dBu input 0.0042%
+30dB: 44dBu input 0.011%
Noise Floor [22Hz-22kHz]
+20dB: -104dBu; -108dBu-A
+30dB: -97dBu; -100dBu-A
+20dB+HF: -101dBu; -104dBu-A
EIN [22Hz-22kHz]
+20dB: 125dBu; -128dBu-A
+30dB: -127dBu; -130dBu-A
Maximum Input for 1% THD+N Output
+20dB: -8dBu / +12dBu Out
+30dB: -22dBu / +8.7dBu Out
Low Cut
+20dB: -3dB 120Hz, -9.4dB 20Hz
+30dB: -3dB 120Hz, -14.8dB 20Hz
Common Mode Rejection
60dB @ 60Hz
Input Impedance
+20dB: 3kΩ (typical)
+30dB: 2.1kΩ (typical)
Output Impedance: 2.5kΩ