Samson Portable Loudspeakers in Worship AVL
This article was first published in the January-February 2020 edition of Worship AVL Magazine. 
Technology: Portable loudspeaker systems
Sean Meagher of Samson Technologies defines portable loudspeaker systems, their uses and whether they can be used in place of permanent installations
Portable loudspeakers allow you to amplify your message wherever your event takes you. Typically, portable loudspeakers are active, meaning they have power amps built into the speaker as well as connections for microphones and line-level devices that are made to withstand the rigors of being set up and moved around. The category of portable loudspeakers can be expanded to not only mean speakers that are easy to transport, but those that are complete audio systems in a single unit. Battery-powered, all-in-one single speaker solutions take this even further. These systems can be used in the sanctuary, recreation or multipurpose rooms and for outdoor events (without needing power cords).​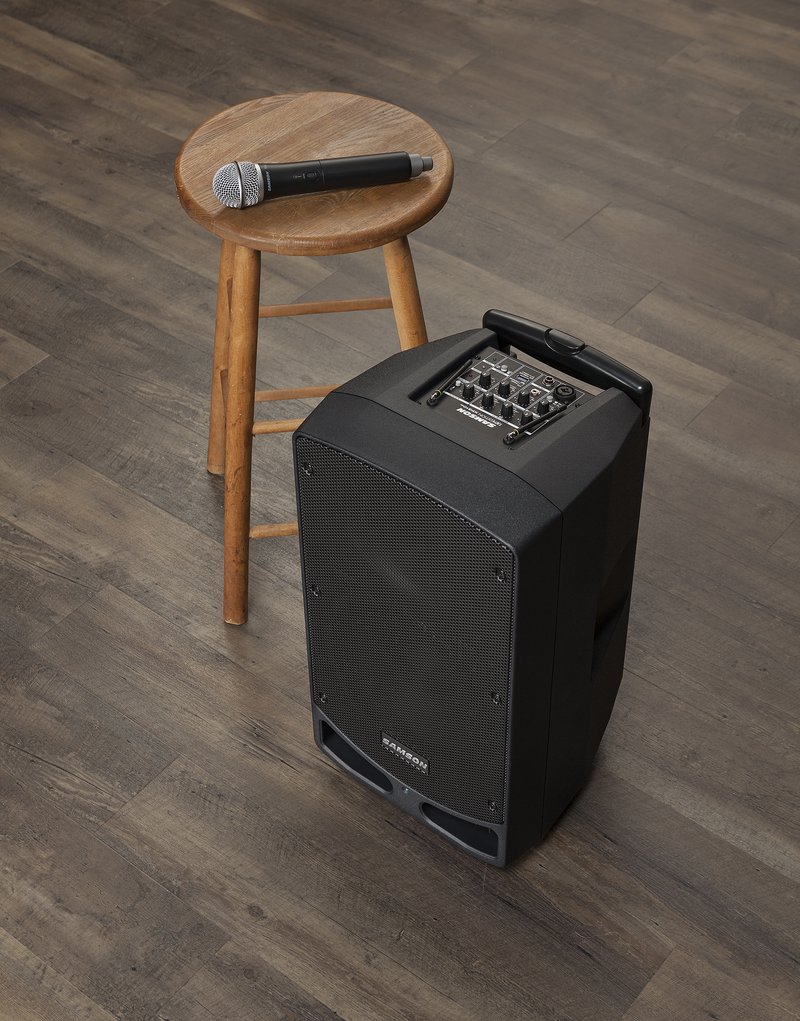 Samson's Expedition XP310w portable PA system
Portable loudspeakers, and especially all-in-one systems, allow worship facilities to be extremely flexible when it comes to providing audio support throughout their space. For smaller sanctuaries or congregations using shared spaces, portable loudspeakers can easily be put on stands to provide coverage for a worship service. In classrooms and multipurpose rooms, small battery-powered speakers are an easy way to add sound reinforcement. You'll find some battery-powered speakers, for example, that include Bluetooth audio for streaming music straight from a mobile device or the ability to add a wireless microphone so that everyone in the room can hear the speaker or instructor.
There are quality speakers available from both portable and installation speaker brands; you do not need to sacrifice one for the other. Portable loudspeaker systems can be used in permanent and fixed setups, but there are some caveats. If you are using powered loudspeakers and plan to mount speakers to the wall, you need to have access to AC power in addition to running an audio signal. On the other hand, fixed installation speakers do not translate well to portable audio. Installation speakers are typically passive and require a separate amplifier to deliver the appropriate signal. Additionally, they often lack handles and are not designed to be transported.
Users should look for qualities such as portability, functionality and durability. How will the speaker be used? If the speaker needs to be used in many locations, battery-powered solutions might be the best way to go, and are light enough for anyone to transport. If portable products are handled with care, they can provide years of quality audio. Portable active loudspeakers usually include one or two mic and line inputs, while all-in-one systems can have a full featured mixer, which can reduce the amount of ancillary gear needed. Choosing the right system for your application at the time of purchase is a key factor in what you'll need to put through it. Wireless is not a necessity, but it can simplify your setup. As an example, Samson's Expedition systems all have the ability to easily add a wireless microphone directly, without needing a standalone receiver.
As for power considerations, the room size and the type of content going through the system will decide how much power is needed. For the spoken word or light music, 60–75W is all that is needed for a medium-sized room. If you want to amplify a full band with a drum kit, you will need a few hundred watts per speaker.
Portable PA systems were designed to fill the need of having easily transportable, high-quality audio. When deciding on a system, look at your application and see where the sweet spot of price, power and portability meets your needs.
Learn more about Samson Portable PA systems and PA cabinets. 
This article was first published in the January-February 2020 edition of Worship AVL. Subscribe at www.proavl-central.com/subscribe/worship