Ten Essential Audio Products for Working at Home
As more people are working from home, online communication is more vital than ever. Samson has plenty of audio solutions to boost your workflow and will help you sound like a pro from home.
If you're working remotely, the first thing you probably want to consider for your home office is finding the right microphone. External USB microphones provide a dramatic difference in audio quality when compared to the microphone built into your computer or laptop. Built-in mics are often times unresponsive, buggy and can sound like you're speaking in a wind tunnel – something you'd certainly wish to avoid in a professional environment.
Finding the right microphone doesn't have to be hard. Samson USB microphones and USB wireless systems are simple to use, capture the full range of your voice with absolute clarity and have plenty of helpful features – so that you can teleconference with confidence.
All Samson USB microphones are plug-and-play compatible with Mac and Windows, so all you have to do is simply plug the mic in and your computer does the rest, no drivers and downloads required. Some USB mics are designed to work seamlessly with iOS devices and most smartphones.
Samson also offers desktop audio solutions such as studio monitors and headphones as well as microphone accessories such as boom arms and laptop stands that can make a big difference in optimizing your home office.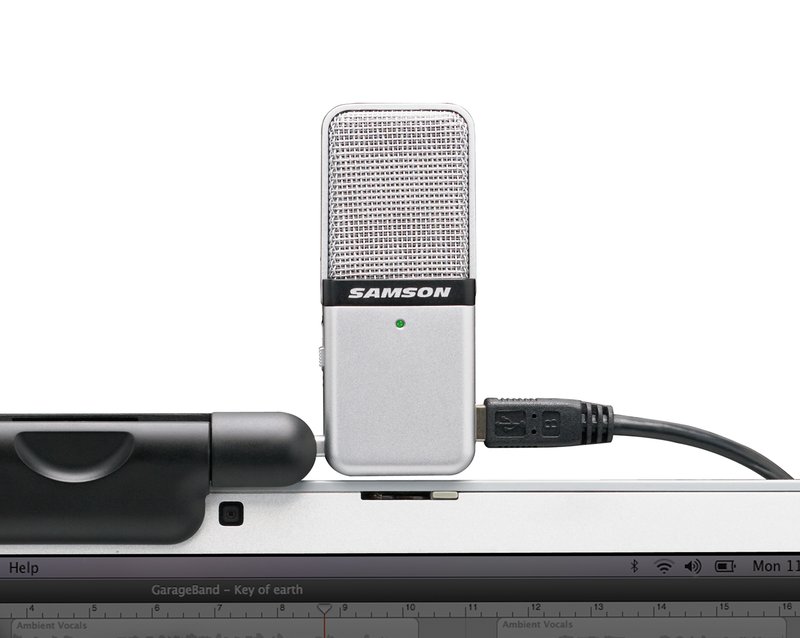 Go Mic - Portable USB Condenser Microphone
It's easy to record with the Go Mic, its unique design allows it to be clipped right onto your laptop or placed unobtrusively on your desk, great for if you're low on space . This little mic is big on sound and can capture frequencies from 20Hz-18kHz, a major upgrade compared to most built-in microphones. Additionally the mic has two selectable polar patterns: cardioid and omnidirectional. Cardioid is great for when the mic is placed in front of you and want it to focus on you, while the omni works well if you are moving around the room and want to be heard from all four corners.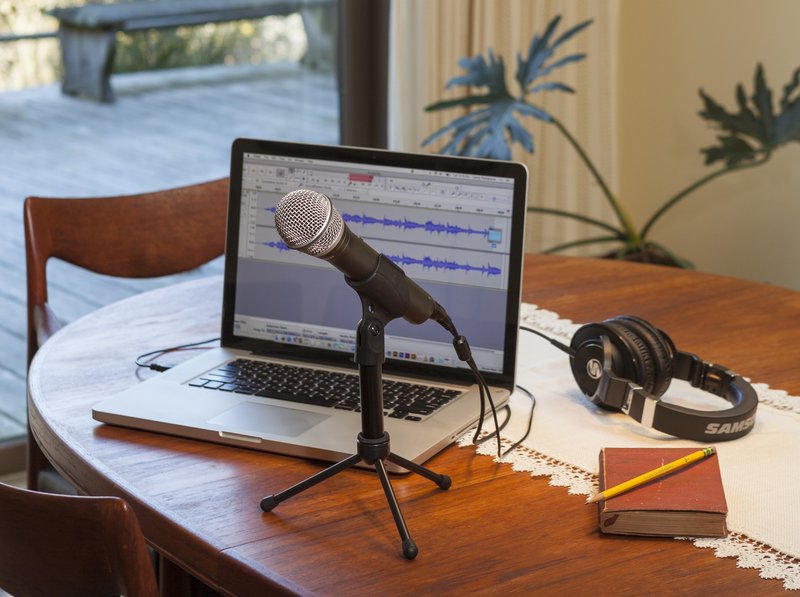 Q2U - Recording and Podcasting Pack
The Q2U is a dynamic XLR/USB podcasting microphone that comes with everything you need to sound your best. The Q2U is a dynamic mic so it is not as sensitive to ambient room noise as a condenser microphone, great for when you are in a "less-than-ideal" recording environment. It also features a cardioid polar pattern that picks up sound coming from directly in front of the microphone, making you the main focus. The mic comes with a desktop stand, windscreen and everything you need to get set-up and start recording or conferencing.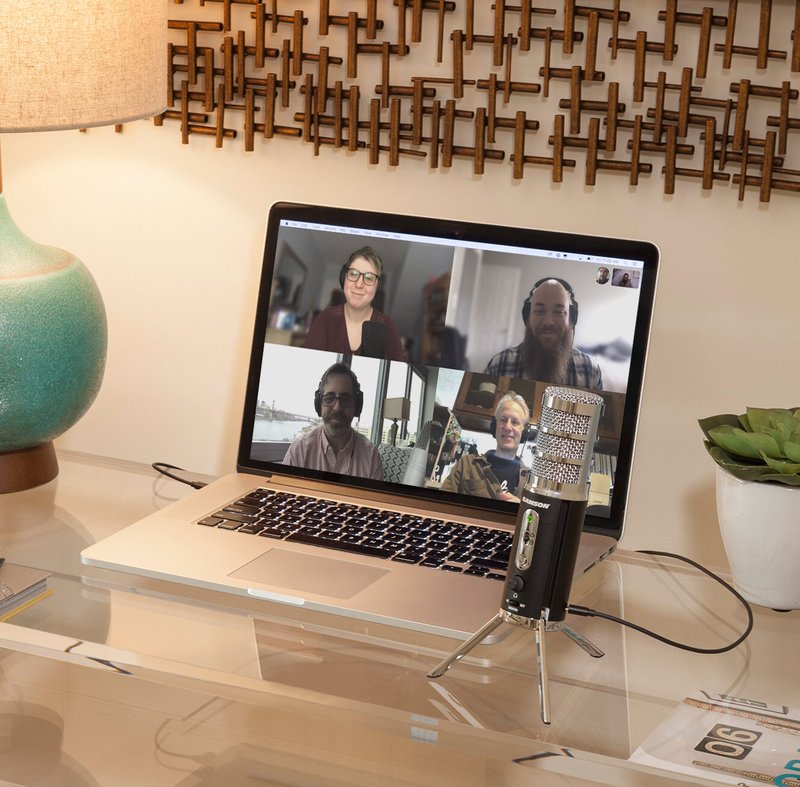 Satellite - USB/iOS Broadcast Microphone
Stand out on your next conference call with the Satellite USB/iOS Broadcast Microphone that captures every detail of your voice in stunning 24bit/96kHz audio resolution. The Satellite has it all with three selectable pickup patterns, a fold-back leg design, and two premium 16mm condenser mic capsules that faithfully record your voice with crystal clear audio clarity. A built-in mute switch comes in handy if you need to step away from the computer.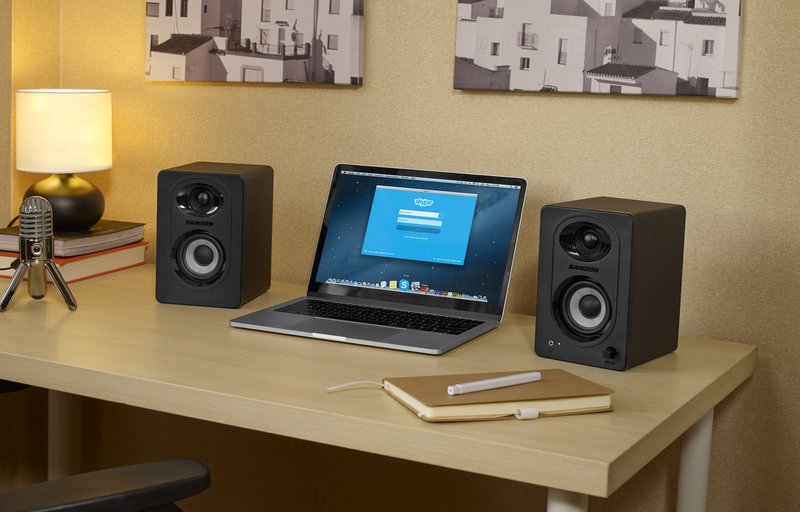 MediaOne M30 - Powered Studio Monitors
Samson MediaOne M30 Powered Studio Monitors give you an exceptionally accurate audio image while occupying minimal desktop space – perfect for those who love to listen to music while working or relaxing to some tunes after a long day. Don't let their small size fool you. MediaOne M30 monitors provide tight lows, smooth highs with a wide sound stage so you can hear every detail. The result is a balanced frequency response and stunning full-range audio. On top of that, a Bass Boost Switch allows you to enhance the lows if desired.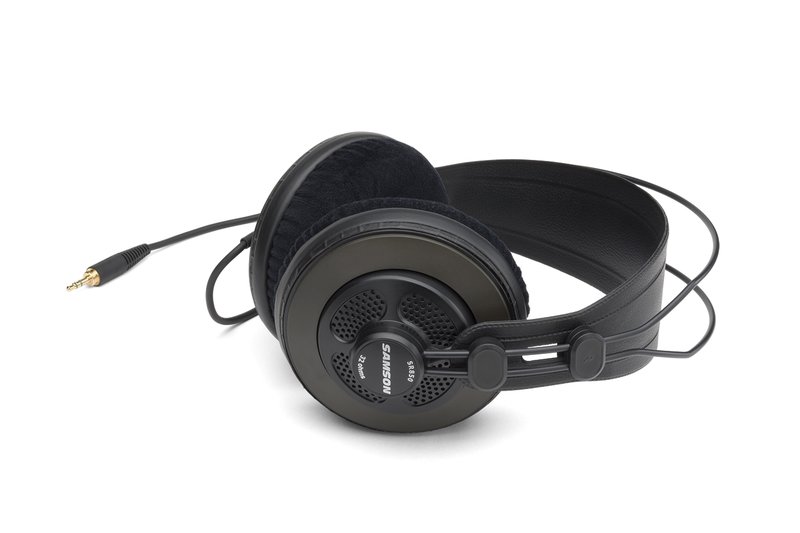 SR850 - Semi-Open Studio Headphones
Zone into your next project with style and comfort with the great sounding SR850 Semi-Open Studio Headphones. With solid bass response, ultra-clear highs and an over-ear design, the SR850 ensures complete comfort and accurate monitoring so you can get your audio just right.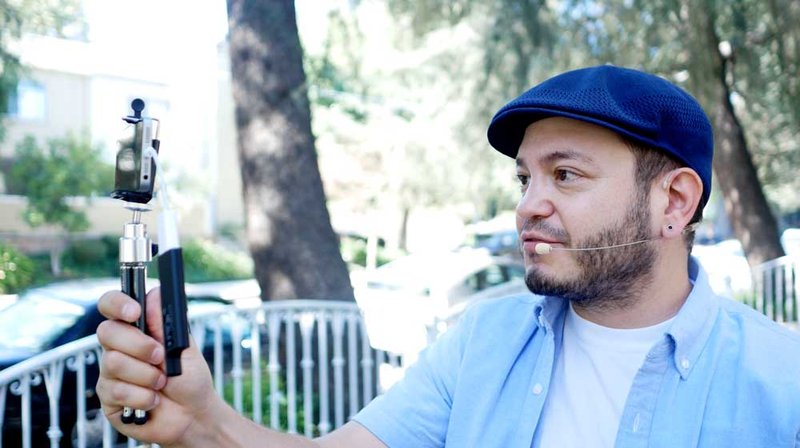 XPD2 - USB Digital Wireless System
Going wireless has never been easier with XPD2 USB Digital Wireless Systems. With a USB stick receiver (about the size of a thumb drive), the XPD2 can be used with your laptop or desktop computer, mobile phone, or Samson Expedition Speaker system. Available in lavalier, headset and handheld microphone configurations, the XPD2 is great for those who like to teach, present or perform without being tethered to their desk.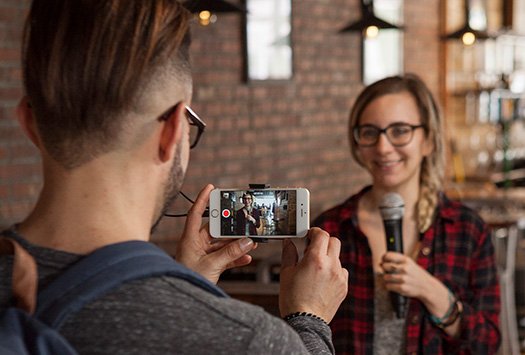 Go Mic Mobile - Wireless Microphone System for mobile video
Go Mic Mobile is a wireless system built completely for your smartphone or tablet. If you're conducting business with your phone or iPad and need 100′ of wireless freedom, Go Mic Mobile is the perfect pro audio solution for you. Go Mic Mobile is available in lavalier and handheld microphone configurations and can facilitate using two microphones simultaneously.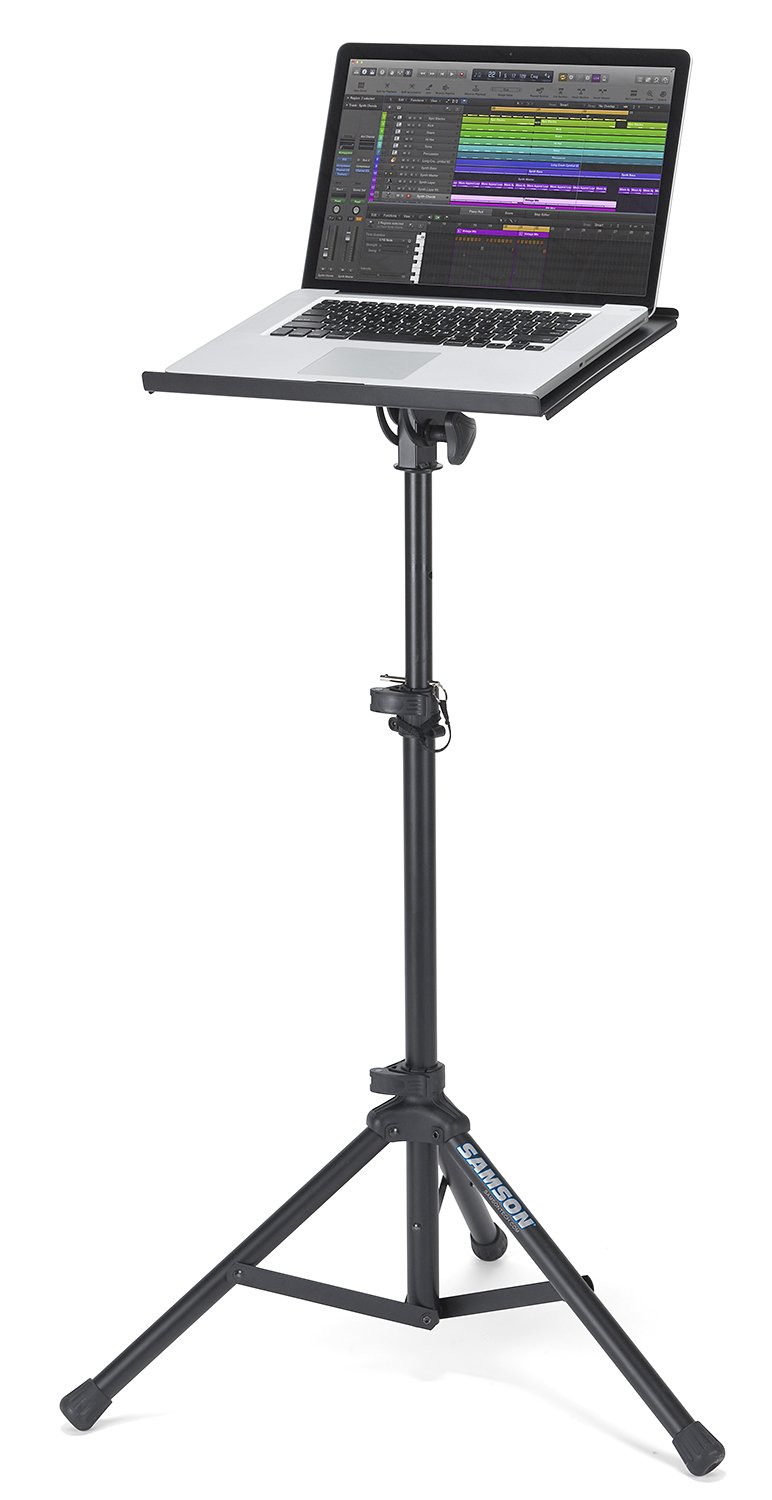 LTS50 - Laptop Stand
Set up shop anywhere around the house with the LTS50 laptop stand. Its 15″ x 11″ laptop tray features a silicon surface to hold your computer securely in place with tilt control for optimal positioning in any application. If you'd like to plug in from the comfort of your living room or are low on desk space, the LTS50 is a great stand for secure and versatile laptop placement.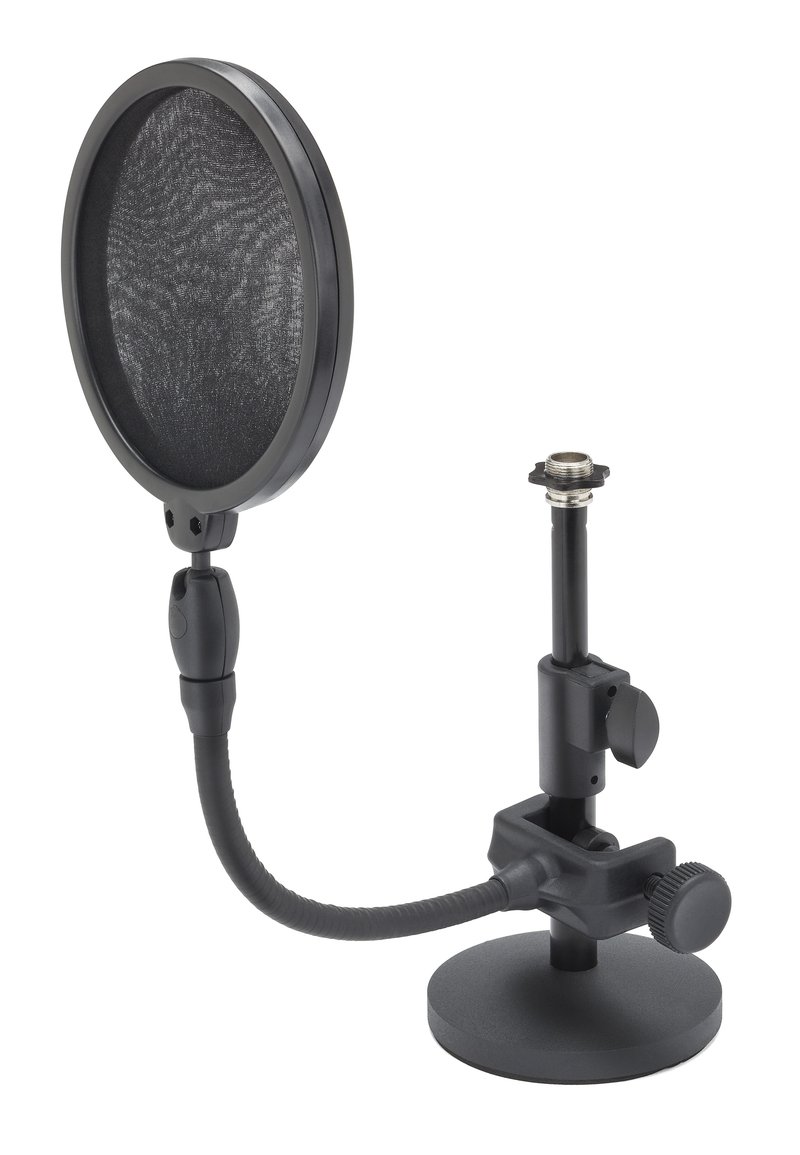 MD2/PS05 Bundle - Desktop Microphone Stand and Microphone Pop Filter
The Samson MD2/PS05 Bundle is an essential mic accessory pack for any desktop studio. Via a telescoping arm, the MD2 Desktop Microphone Stand is easily adjustable from 6–9″ in height to allow for optimal mic positioning. The PS05 Microphone Pop Filter features a dual-layer 4.75″ nylon mesh screen that reduces the vocal popping sounds ("P-Pops") that occur during speech and singing, as well as protects the microphone from saliva.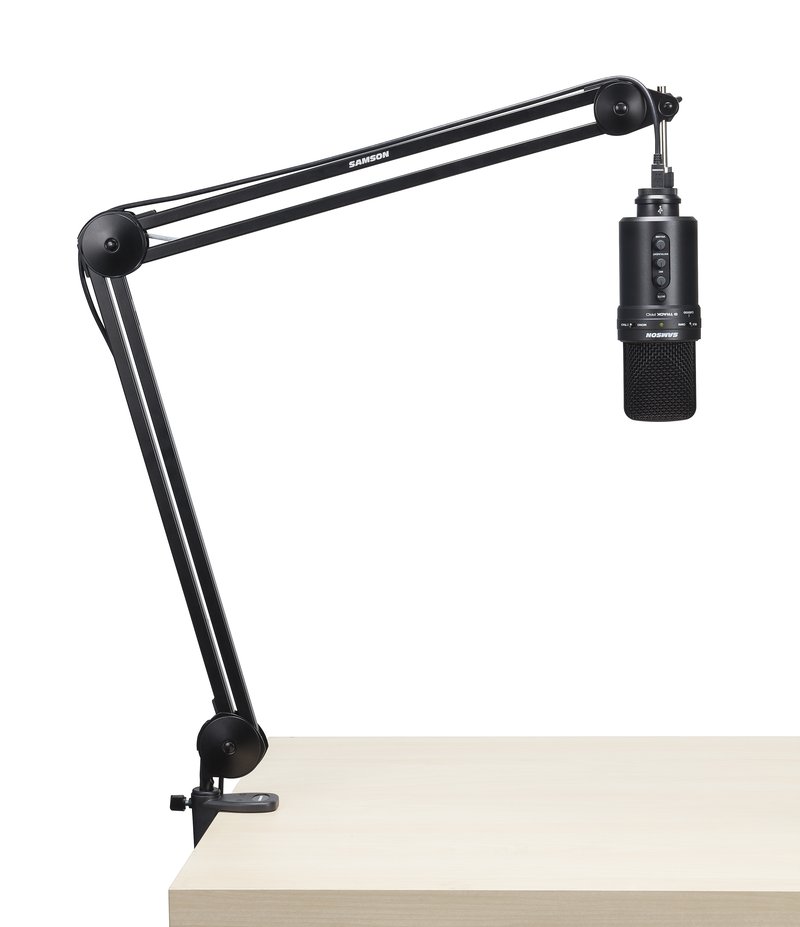 MBA38 - 38" Microphone Boom Arm
Achieve optimal mic placement at your workstation with the MBA38 desktop boom arm. Its articulating design provides a maximum horizontal/vertical arm reach of 38″, giving users flexibility with their mic placement. Easily reach over a monitor or laptop without using up any valuable desk space. Attached to a desk via a C-clamp mount, the MBA38 has a standard 5/8″-27 mic clip threading for easy mic attachment and can accommodate any microphone weighing up to 5 pounds.