Giving a Voice to People with Disabilities: New York Based YAI Organization Launches Podcasting Program
Kenneth Reedy, who directs the podcast program, explains how gear donated by Samson enables YAI to create its podcasts in an easy, effective way.
YAI, originally known as the Young Adult Institute, has offered services for children and adults with intellectual and developmental disabilities (I/DD) since 1957, with the New York-based organization providing support, as it states, "for people to live, love, work and learn in their communities." Kenneth Reedy, YAI's Hudson Valley regional support supervisor of Curriculum and Workforce Development, has helped develop an innovative podcasting program, with I/DD individuals serving as hosts of various shows devoted to their enthusiasms. YAI staff members Mark Grant and Ebony Hartwell teach podcasting skills and supervise production of the shows, with the podcasts so far centering on topics such as sports and movies.
YAI's programs support more than 20,000 people in the I/DD community in the states of New York, New Jersey and California, serving people with autism, Down syndrome, and cerebral palsy, among other challenges. The organization's Center for Innovation and Engagement has long sought to use technology to assist I/DD individuals of all ages in participating more fully in their communities and developing independence, primarily by using digital devices to complete training courses, pay bills, arrange travel and play challenging games. Over the past few years, YAI's campus in Tarrytown, New York, has developed multiple initiatives to cultivate creative skills in art and technology, and now podcasting is part of that mix.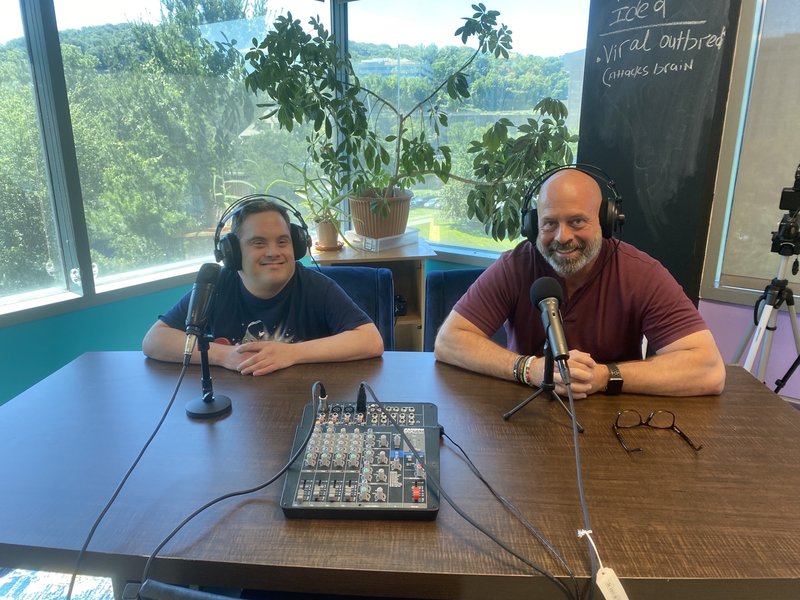 Derrick Singlar (left) and YAI's Kenneth Reedy (right)

YAI's podcasts are produced at its day lab in Tarrytown and then posted to its YouTube channel. To aid the program, Samson has provided professional-grade microphones, headphones and other audio equipment. This gear enables YAI to create its podcasts in the easiest, most effective way possible. (See below for a list of equipment Samson has donated.)
David Sheeber has attended the Tarrytown day lab for four years and now co-hosts "The Recap," a monthly sports podcast. The podcasts allow him to pair a love of sports with his outgoing personality. "I got into it because I watch basketball, hockey, all that stuff," he explains. "I really enjoy doing it because I love doing things my way. It feels good." Another of the podcast hosts, Derrick Singlar, says: "Podcasting is hard work, but I like doing interviews. It's about friendships — it's from my heart."
To Reedy, the podcasting program furthers YAI's pioneering tradition of, according to the organization's founders, serving I/DD individuals via "a total life-adjustment approach, emphasizing personal growth, social responsibility, employment goals and the development of independence." At a time when institutional living was the norm for people with I/DD, the original YAI vision was revolutionary – and Reedy would like this vision to be evolutionary through such modern platforms as podcasting.

What spurred you to start YAI's podcasting program?
My job is to create new, exciting curriculum, so I'm always looking to create something that's outside of the usual box. Too often, work activities for people with disabilities consist of filing, stuffing envelopes, cleaning windows, etc. I wanted to develop something unique and authentic, something that helped our offerings evolve — really bringing us into the 21st century! I'm passionate about that. Right now, we have a movie-review show, a sports show and a podcast where the host, honestly, talks about whatever he wants. In development are health and fitness podcasts, as well as some on crafting and cooking. The goal is not only to give people with disabilities fulfilling new experiences — we also want to get their voices out there.
What do you think the podcasts do for your podcasters and the I/DD community?
Representation matters. It's imperative that we increase the visibility of the disability community, and podcasting is an ideal platform for that. It gives people with disabilities direct exposure to their communities — where they, like everyone else, belong. Our hosts now have the platform to share their likes and dislikes, and their talents and passions.
What are some of the special challenges to doing the podcasts — and how do you and the podcasters deal with those? And how does the technology/gear help with that?
Frankly, our biggest challenge has been funding, which is why visibility is so important. Samson's gear donation was a game-changer for us, really helping us move forward with a professional-quality studio that can record podcasts with multiple hosts. We're fully equipped now, with Samson microphones, headphones and mixing board, to create new shows and better-quality programming. Our amazing staffers Mark Grant and Ebony Hartwell are training more hosts, and the gear is vital.
Where would you like to see this podcasting program lead?
As far as we can take it! People with disabilities constitute one of the most marginalized communities in our society. Recent statistics reveal that 90 percent of people with disabilities will be a victim of abuse. That's such a sobering statistic, yet there is next to no media attention for this issue. We face an uphill climb, but it's a climb we all intend to make, together. The general public needs to view people with disabilities as, well, people. People with hopes and dreams, talent and personality. We cannot thank the people of Samson enough for their donation. Yes, it will assist us in running a podcast studio but, more important, it helps give people with disabilities a voice.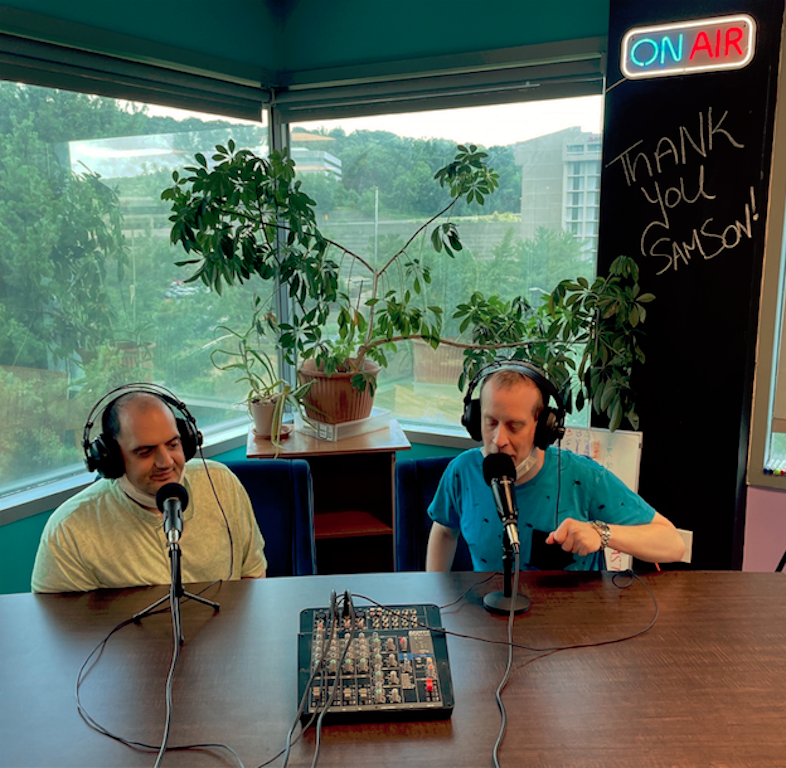 Chris Daniels (left) and David Sheeber (right) in the new podcast studio at YAI.