How Samson's MCD2 Pro Saved Our Live Sound, and Will Save Yours Too
We live in exciting times. We have access to so many devices we can use to make music. With all of this excitement, it can be easy to forget a most critical part of the equation: the connections used to hook up all of this equipment. This is a story of how I recently encountered the problem of connecting gear with unbalanced, line-level outputs to sound systems that require balanced connections and how the Samson MCD2 Pro Direct Box solved the issue.

As of late, I've been especially excited by certain mobile apps for the iPhone and syncing their timing with other apps using Ableton Link. A couple of my buddies and I got together with the intention of having a proper iOS jam by syncing our devices wirelessly using Link. We had played together a time or two just using the built-in speakers in our phones, but now we wanted to get a little loud.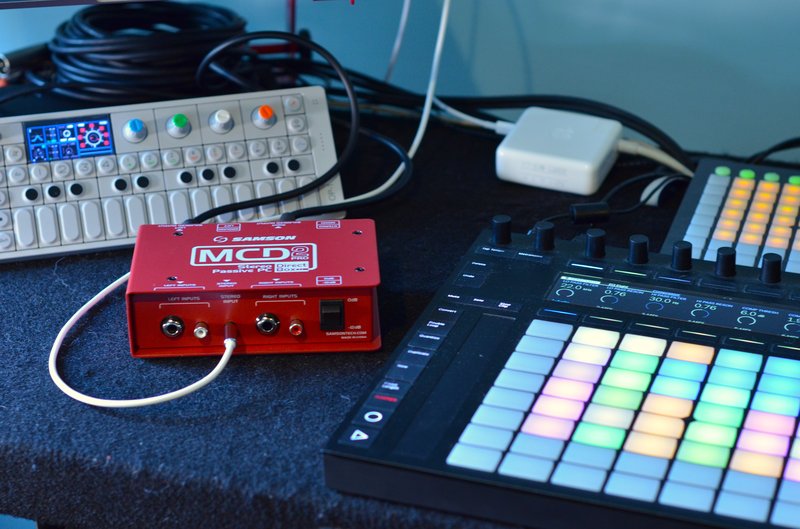 There were three of us at my friend's house. There were two keyboard amps, a couple of microphones for vocals, and a PA sound system. The plan was to run two of the phones through the two keyboard amps and the other would go straight into the PA mixer. Hopes were high, but that's about where the excitement ended.
Upon plugging one of the phones into the PA, we found the level to be extremely low. So we cranked up the phone to max volume and started turning up the gain on the mixer channel. There was a ton of hum, buzz and electrical interference noise. To make a sad story short, we spent the rest of the night trying to find solutions to eliminate the buzz. No music was made.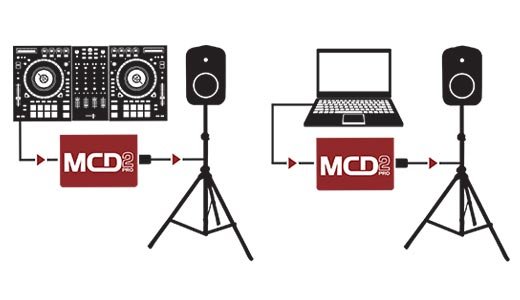 We've run into a common problem in the world of live sound: using unbalanced cables with balanced inputs. Many instruments such as guitars, basses and synths have unbalanced outputs, but many mixers and other professional gear require balanced inputs. Unbalanced cables are susceptible to outside interference that can result in buzz, hum and electrical noise. Balanced cables have an extra wire inside that inverts the polarity of the signal and cancels out the noise. Usually the outputs of our audio devices have unbalanced outputs.
The solution came in the form of the Samson MCD2 Pro, which is essentially a direct box made specifically for the unbalanced stereo signals coming from phones, tablets, laptops and DJ gear. The MCD2 Pro converts an unbalanced signal into a balanced signal, allowing you to properly connect to a club's PA system, for instance. Unbalanced signals can be a major issue in these scenarios because you often have to run long cables to reach the club's sound system. The MCD2 Pro is small enough to fit on a table next to all your gear and will convert high impedance signals to more preamp-friendly low impedance signals. If there is still any hum or buzz from electrical interference, the MCD2 Pro's Ground/Lift switch will remove it.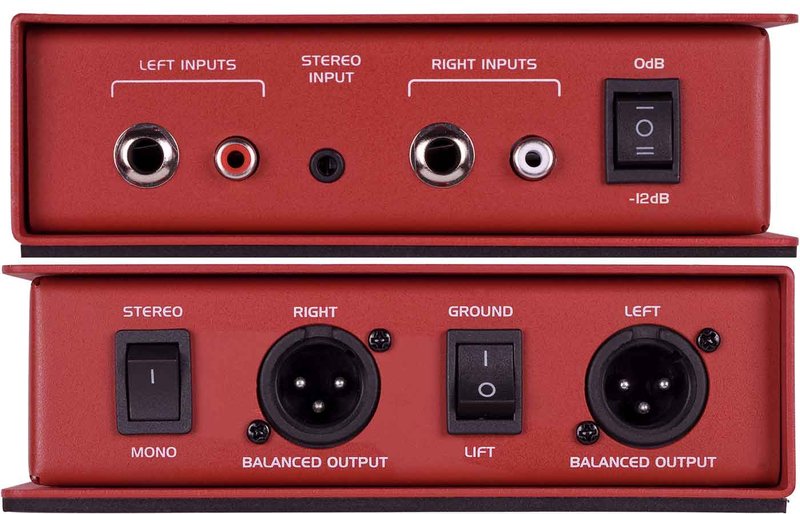 There are a couple of really nice features on the MCD2 Pro. First off, there's a variety of inputs. Whether your gear has two 1/4″, two RCA or a simple stereo 1/8″, you're covered. Plug your gear into the front and output your sound via the two balanced XLR outs on the back. For the case of our iPhone jams, the Stereo/Mono switch was great for summing the phone's Stereo signal to Mono so we only needed to use one input on the mixer, leaving room for the microphones. And in case your signal is too hot and distorting the mixer, there's a -12dB gain attenuator. Also ideal, the MCD2 is small and built like a tank, which means you can easily toss it in a bag and head to the gig.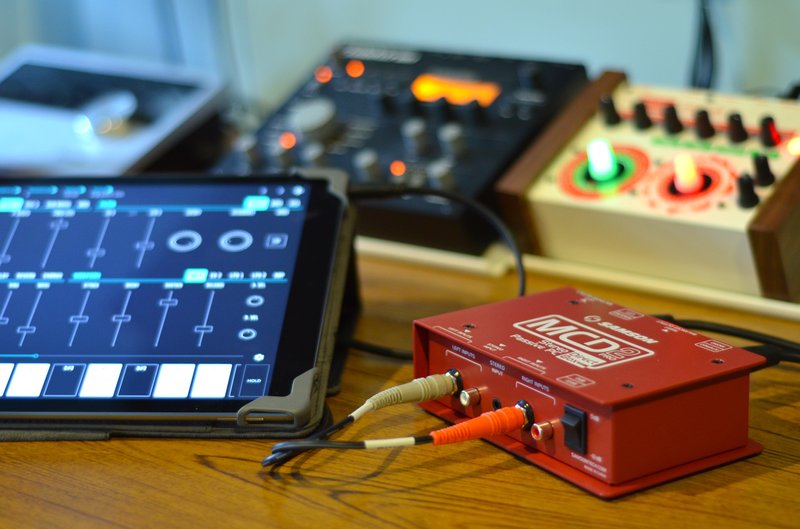 The next time my friends and I attempted our mobile jam, we had the MCD2 Pro with us and it worked immediately. We simply plugged the iPhone into it and connected to the mixer's mic input. Everything sounded great and we actually made some music.
On stage, there are many factors that can introduce unwanted noise and buzz into your signal.  When you're working with sound, this is unacceptable. The MCD2 Pro makes it easy to bring your gear to a gig and plug straight into the mixer. The connection is easy and the sound is clear.