Improving Audio for the Covid-19 Classroom
In 2020 as we head into the fall school semester, the highest priority is to keep both students and teachers safe while providing a productive learning environment. Some schools may opt for a complete remote or "distance learning" approach, with all students live-streaming or watching prerecorded videos at home, others may employ a hybrid system with a mix of students in the classroom (following social distancing guidelines) and the remainder of students streaming from home. We will look at tools to improve the audio for both in-class and remote students during this unprecedented time, and which may become the standard learning environment. With whatever technique a school decides, the focus must be on keeping students engaged so they don't feel isolated or lose interest as they sit alone in front of a computer screen for hours at a time.
Administrators and teachers will need to embrace new technologies, leveraging video and other digital tools to ensure students don't miss valuable learning time. An easily overlooked aspect of digital communications is the audio. Intelligibility is the most critical component of keeping someone's attention. If you can't be heard clearly, then students will lose focus and thus lose interest. When audio in unclear, we tend to raise the volume thinking that it will help us hear better. But when listening on headphones for extended periods of time at high levels, ear fatigue can set in. This can lead to tiredness, discomfort and pain. Not something we want students to experience. Using a high-quality microphone from Samson along with proper mic techniques will result in your voice sounding clearer, with less background noise and a more engaging experience for your students.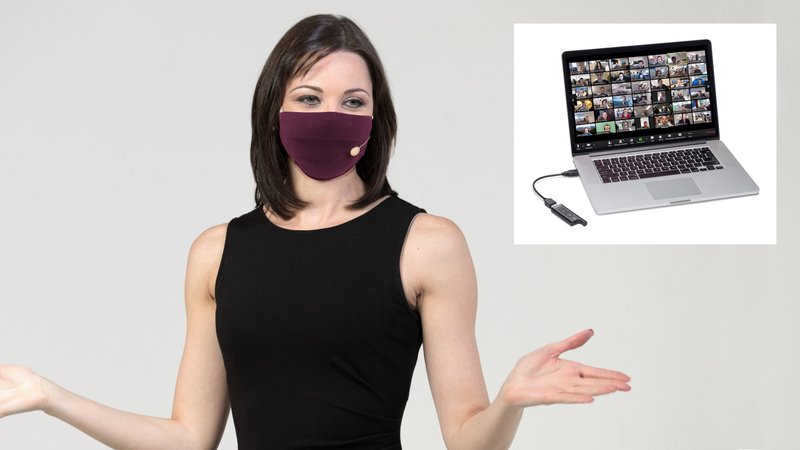 The Hybrid Learning Environment
If your school is taking a hybrid approach with in-person and remote students, teachers will need a system that allows each student to clearly hear the lesson from any location. Not only do teachers have the new challenge of teaching the one lesson in two mediums simultaneously, they will also be wearing masks and face shields that will muffle their voice and inhibit intelligibility. Using a microphone positioned close to the mouth is the best way to combat this obstacle. And a wireless microphone will allow for easy movement around the classroom without being tethered to a desk, computer or lectern.
Samson XPD2 Headset - USB Digital Wireless System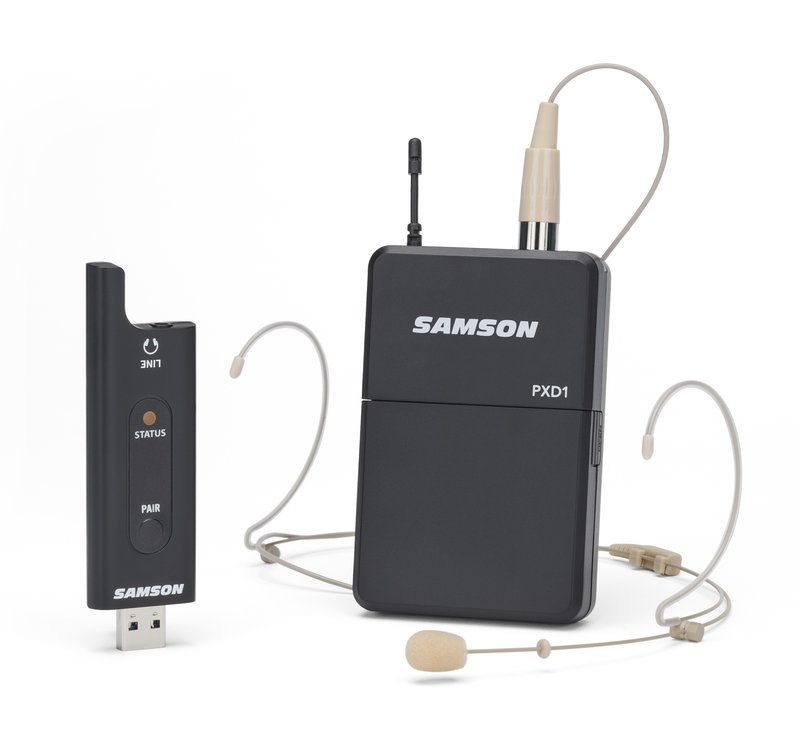 XPD2 Headset System
The Samson XPD2 Headset wireless system includes a USB stick receiver that connects directly to a USB port on a Mac, PC or Chromebook. It can then be selected as the input audio source for your video streaming software.
Using our proprietary wireless technology, the XPD2 system broadcasts the full audio range, so viewers will clearly hear the instructor's natural voice. The system provides up to 100′ of operating range, more than enough for any classroom.
The low profile DE5 headset microphone has an omnidirectional pickup pattern, which means that it picks up sound evenly from all around the capsule. This enables the wearer the ability to position the microphone off to the side of their mouth or over a mask and still provide outstanding audio reproduction.
The beltpack transmitter can easily fit in a pocket or attach to a belt/waistband, and operates for up to 20 hours on two 'AA' batteries.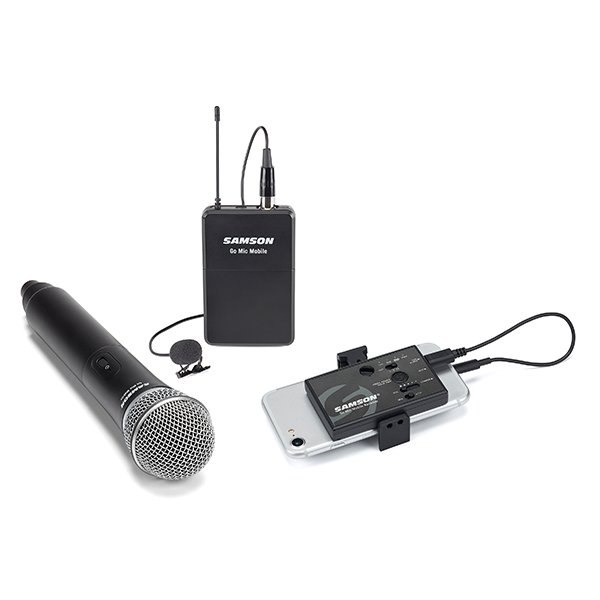 Samson Go Mic Mobile® - Wireless Systems
The Samson Go Mic Mobile wireless system is unique because it can connect directly to smartphones or computers. It's actually a dual receiver which means two wireless transmitters can be paired with it and used at the same time and their audio mixed together. Like the XPD2, the Go Mic Mobile receiver can connect directly to a USB port on a Mac, PC or Chromebook and can be selected as the audio source for your video streaming software.
Go Mic Mobile is available with beltpack (with an included lavalier microphone) or handheld transmitters. An instructor can use a beltpack with the lavalier mic to lead the class, while placing a second handheld transmitter on a stand to capture sounds of in-class participation that can be sent to the students streaming at home. This would provide a more immersive experience.
For recording lectures, connecting the Go Mic Mobile to a smartphone equips teachers with an extremely easy solution for filming videos with high-quality audio.
Now that we have discussed delivering high-quality sound to students streaming classes at home, let's talk about how to improve the sound within the classroom. Adding a powered loudspeaker will allow you to amplify your voice without needing to talk louder–which will save your voice in the long run.
Three considerations for selecting a speaker for the classroom are:
Does it have enough power to fill the room?
Can it reproduce sound intelligibly?
Is it easy to setup and move around?
Hybrid Classroom XP106w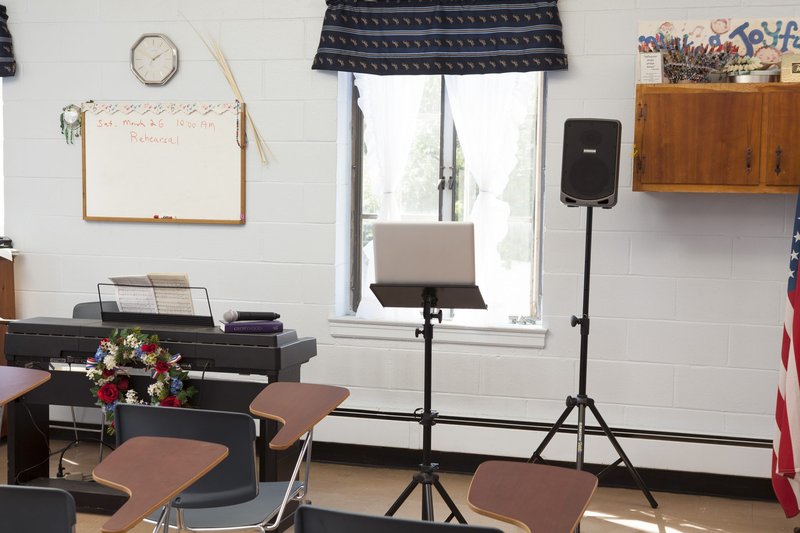 Samson Expedition - Rechargeable Speakers
The Samson Expedition series of rechargeable speakers is an excellent choice for classroom sound reinforcement. These all-in-one systems have a simple built-in mixer, include Bluetooth audio and are easy to transport around the school. Battery powered speakers are also recommended because you can find the optimal placement within the classroom without having to worry about if there's an outlet close by.
Samson has an array of Expedition rechargeable speakers that start at 50 watts with a 6″ speaker, and goes up to 300 watts with a 12″ speaker.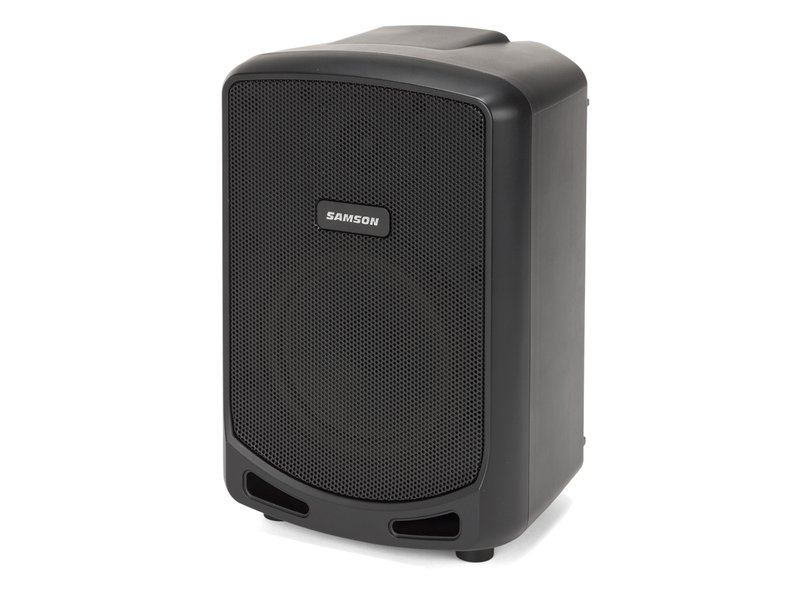 Expedition Escape+
Power: 50 watts
Audience Size Typical: 25–50
Audience Size Social Distancing: 10–20
Battery Life: Up to 20 hours
Onboard Mixer: 2-Channel
Bluetooth: Yes
Handle/Wheels: No
Weight: 10.4 lb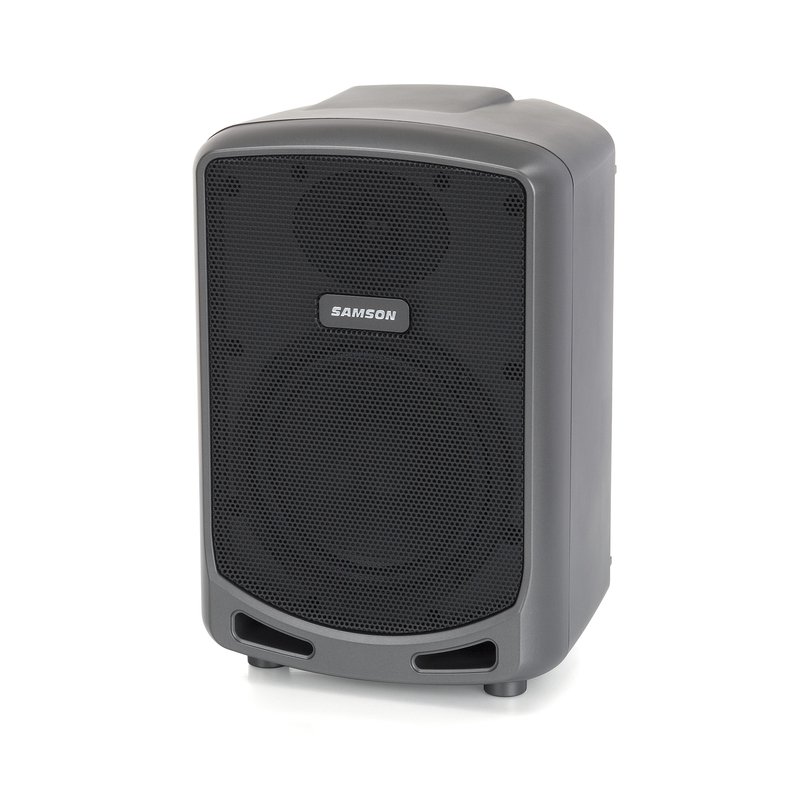 Expedition Express+
Power: 75 watts
Audience Size Typical: 50–100
Audience Size Social Distancing: 20–40
Battery Life: Up to 20 hours
Onboard Mixer: 3-Channel
Bluetooth: Yes
Handle/Wheels: No
Weight: 11.9 lb
Includes: Wired handheld mic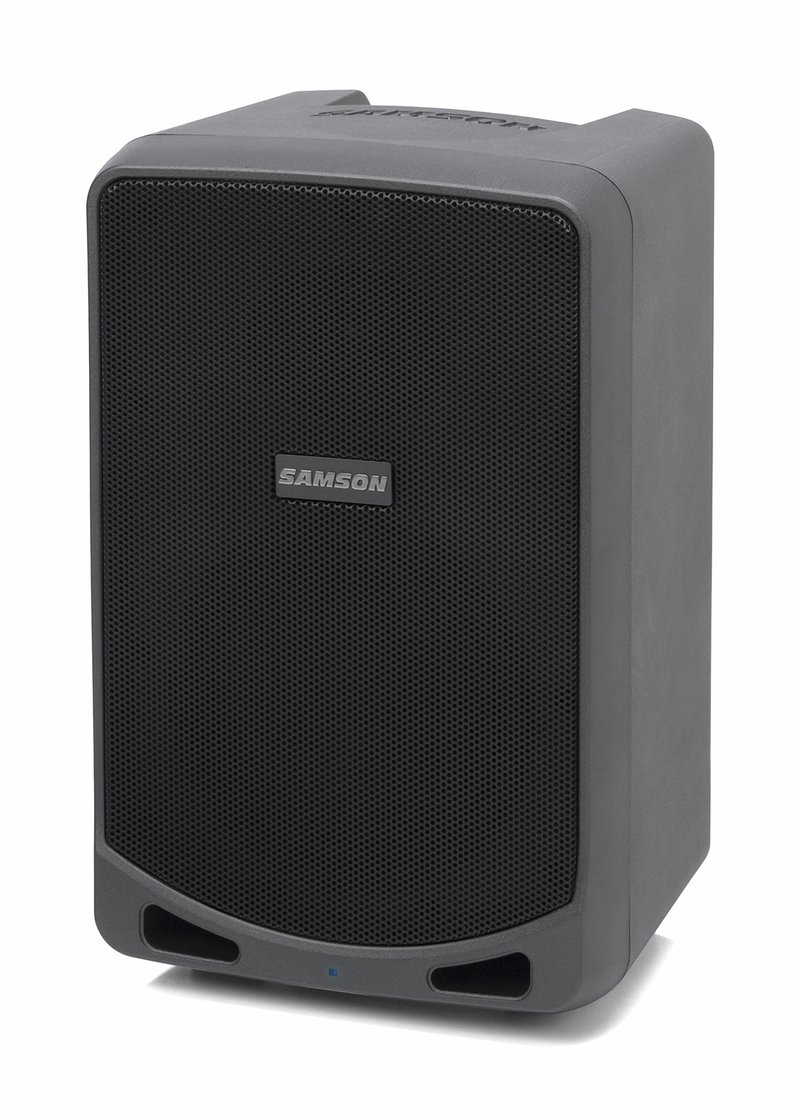 Expedition XP106
Power: 100 watts|
Audience Size Typical: 75–200
Audience Size Social Distancing: 30–80
Battery Life: Up to 20 hours
Onboard Mixer: 4-Channel
Bluetooth: Yes
Handle/Wheels: No
Weight: 16 lb
Includes: Wired handheld mic
Available with: XPD1 Handheld or XPD1 Beltpack Wireless Systems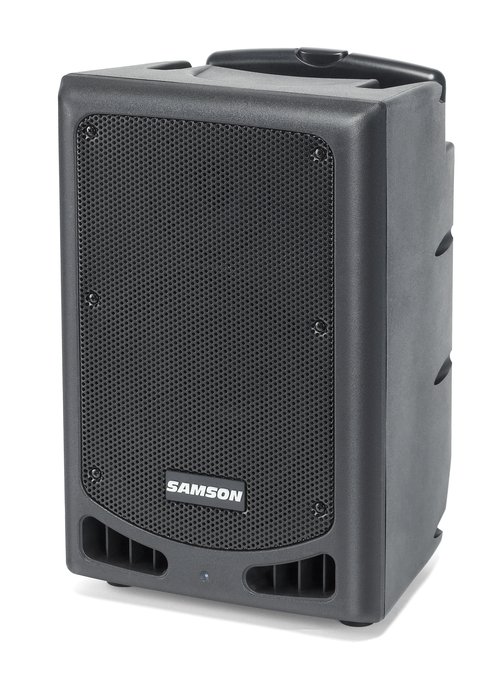 Expedition XP208w
Power: 200 watts
Audience Size Typical: 100–300
Audience Size Social Distancing: 40–120
Battery Life: Up to 20 hours
Onboard Mixer: 4-Channel
Bluetooth: Yes
Handle/Wheels: Yes
Weight: 23.8 lb
Includes: XPD2 Handheld Wirelss Mic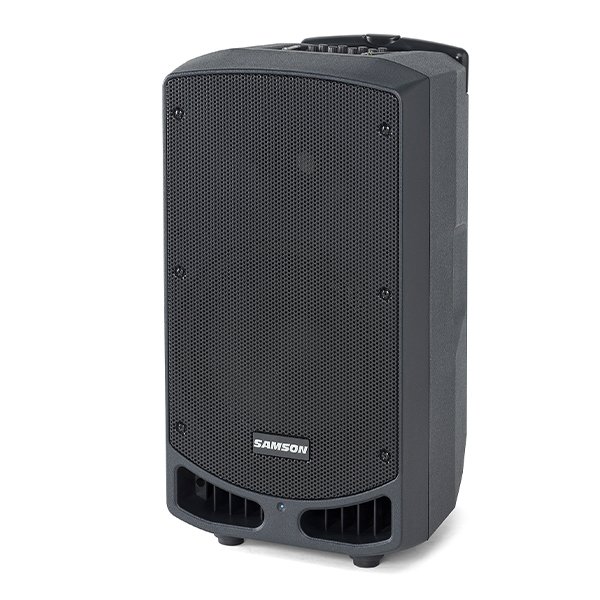 Expedition XP310w
Power: 300 watts
Audience Size Typical: 200–400
Audience Size Social Distancing: 80–160
Battery Life: Up to 12 hours
Onboard Mixer: 4-Channel
Bluetooth: Yes
Handle/Wheels: No
Weight: 27.5 lb
Includes: Wired handheld mic
Available with: Concert 88a Handheld Wireless Mic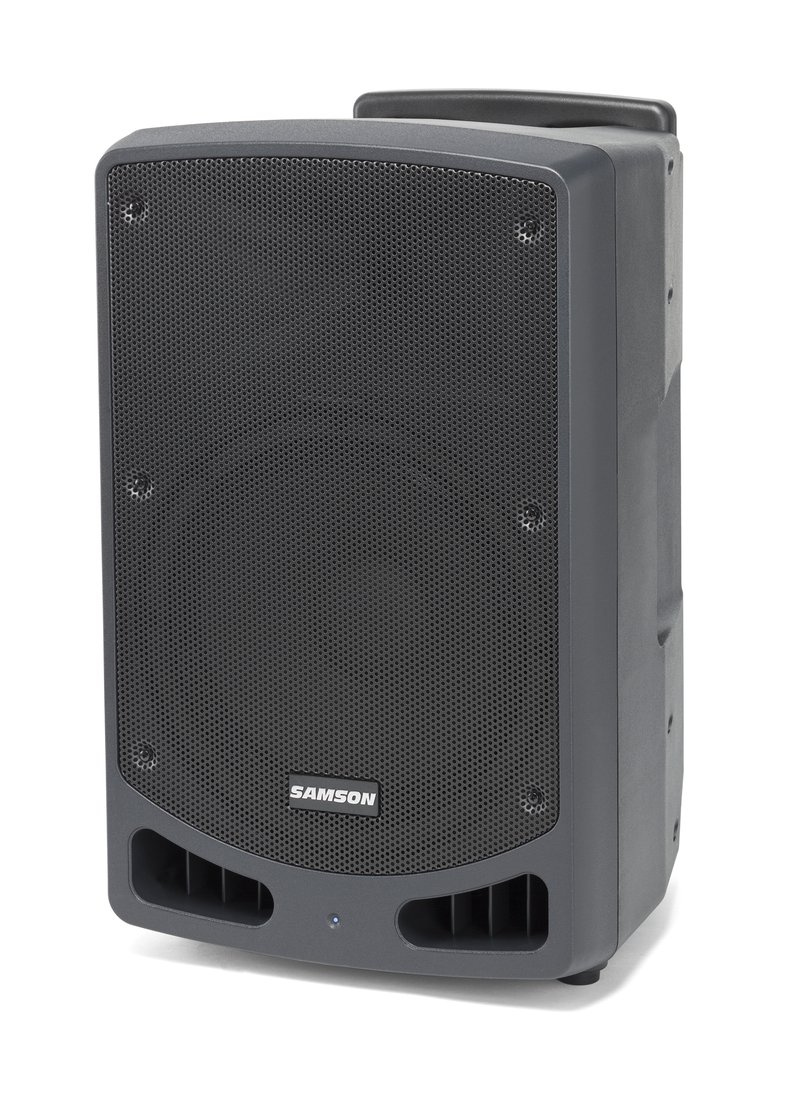 Expedition XP312w
Power: 300 watts
Audience Size Typical: 300–500
Audience Size Social Distancing: 120–200
Battery Life: Up to 12 hours
Onboard Mixer: 4-Channel
Bluetooth: Yes
Handle/Wheels: No|
Weight: 38 lb
Includes: Wired handheld mic
Available with: Concert 88a Handheld Wireless Mic
Remote Instruction
If your school is taking a completely online approach then you must find a way to upgrade your workspace to stream high-quality audio. Your earbuds with a mic just won't cut it.
We all understand that private work areas are not always possible, as everyone has a different living and family arrangements, but that doesn't mean the quality of a streaming class or prerecorded lesson needs to suffer. Once again, a good microphone with proper placement will provide exceptional results (and without a huge investment). The easiest way to add professional sound to a computer is with a USB microphone. There are many types and styles of USB microphones but they all share the basic concept of converting sound into a digital signal that your computer can use for recording or streaming via a USB cable. But not all USB microphones are created equal.
Samson USB microphones have been designed to the same standards as traditional recording studio and broadcast microphones. This means from the mic capsule through the internal circuitry, every aspect is meticulously engineered to provide a superb audio experience. Samson offers a range of USB microphones that can help remote educators achieve desirable results.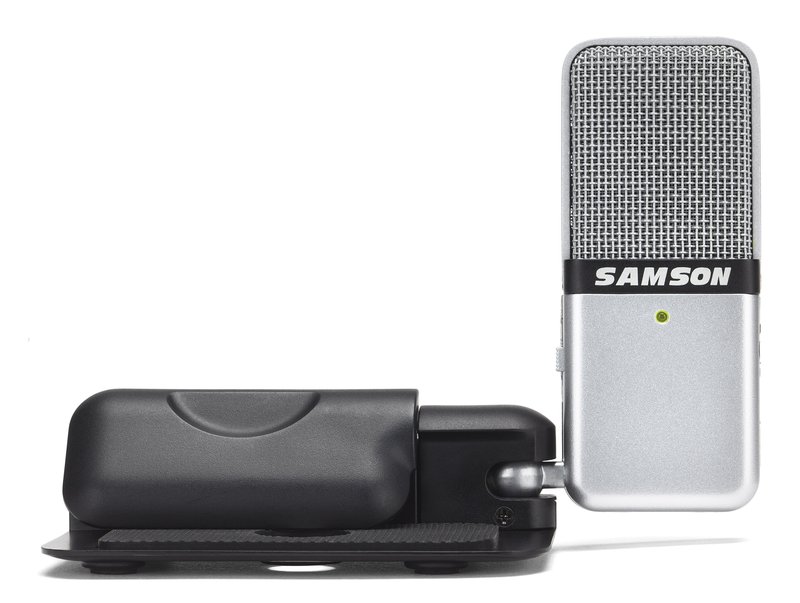 Go Mic
With its compact, fold-up design and integrated clip, the Samson Go Mic can mount right onto your laptop or sit right on your desk. Plug and play operation means it's completely compatible with a Mac, PC and Chromebooks with no drivers required. Instantly improve the quality of your audio when streaming classes, recording lessons or having one-on-one chats with students.
Go Mic includes two microphone pickup patterns, cardioid and omnidirectional. The cardioid pattern captures sound in front of the microphone and rejects sound from the sides and back. The omni pattern will evenly pick up sound 360° around the microphone. This can be used if you like to move around while teaching. A -10 dB pad provides additional headroom for those who tend to project their voice a little more and protects the audio from overloading.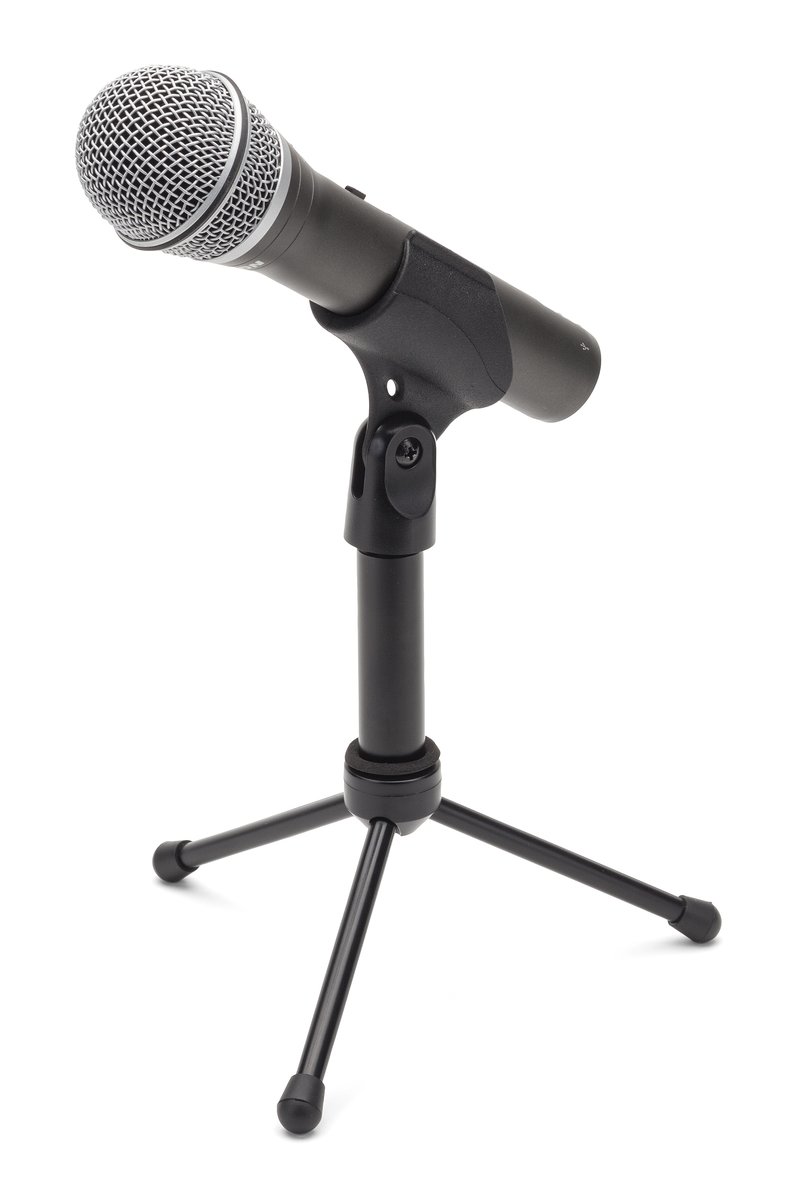 Samson Q2U - USB/XLR Dynamic Microphone
The Samson Q2U is a great choice for working in environments where you don't have complete control over background or ambient noises. It features a dynamic microphone capsule with a cardioid pickup pattern. These two attributes together focus on the sound that is directly in front of the microphone, typically within 6–12″ away from the capsule, while rejecting sounds to the sides and behind the mic.

Q2U combines the convenience of digital and analog audio capture into one microphone. With XLR and USB outputs, the microphone can connect directly to a computer or be part of a larger recording workstation. The Q2U can also pull double duty as a live microphone and will work with any PA system or mixer that has an XLR microphone input. It comes with a mic clip, desktop tripod stand, windscreen, XLR cable and USB cable—everything you need to start working, right out of the box.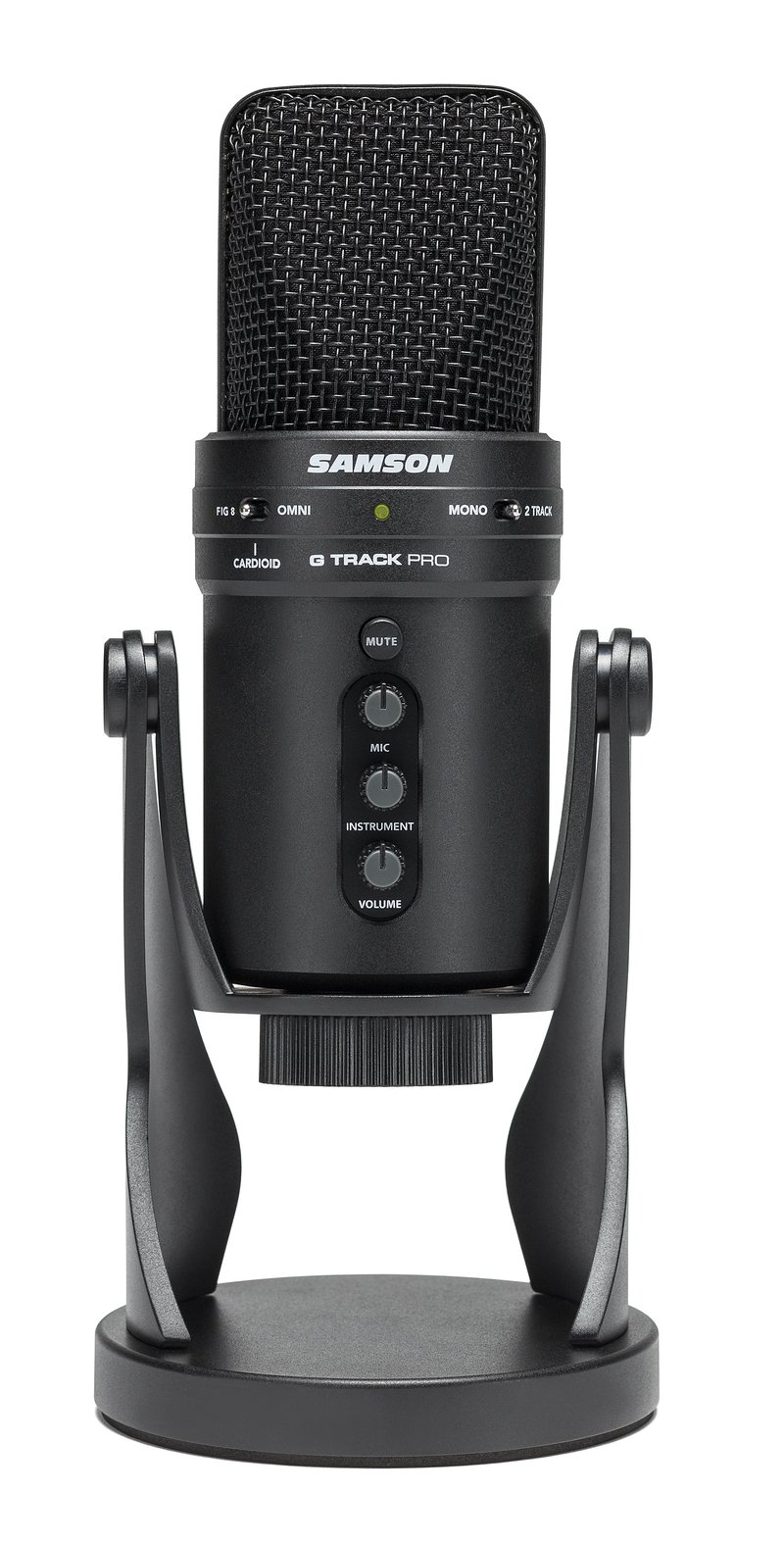 G-Track Pro - Professional USB Microphone with Audio Interface
The Samson G-Track Pro is a professional, studio quality, multi-pattern USB microphone. It also includes a 1/4″ input that can be used to connect any line-level or instrument sound source. This is great for adding media that is stored on an external device like a smartphone or tablet, simply connect the headphone output of the device to the input on the G-Track Pro. A front panel mixer makes for quick and easy access to all the level controls and a signal overload indicator allows you to ensure you are delivering the best quality audio. A great solution for remote music classes, instructors can plug a guitar or bass into the G-Track Pro and stream a mix of the instrument as well as the instruction over the microphone at the same time.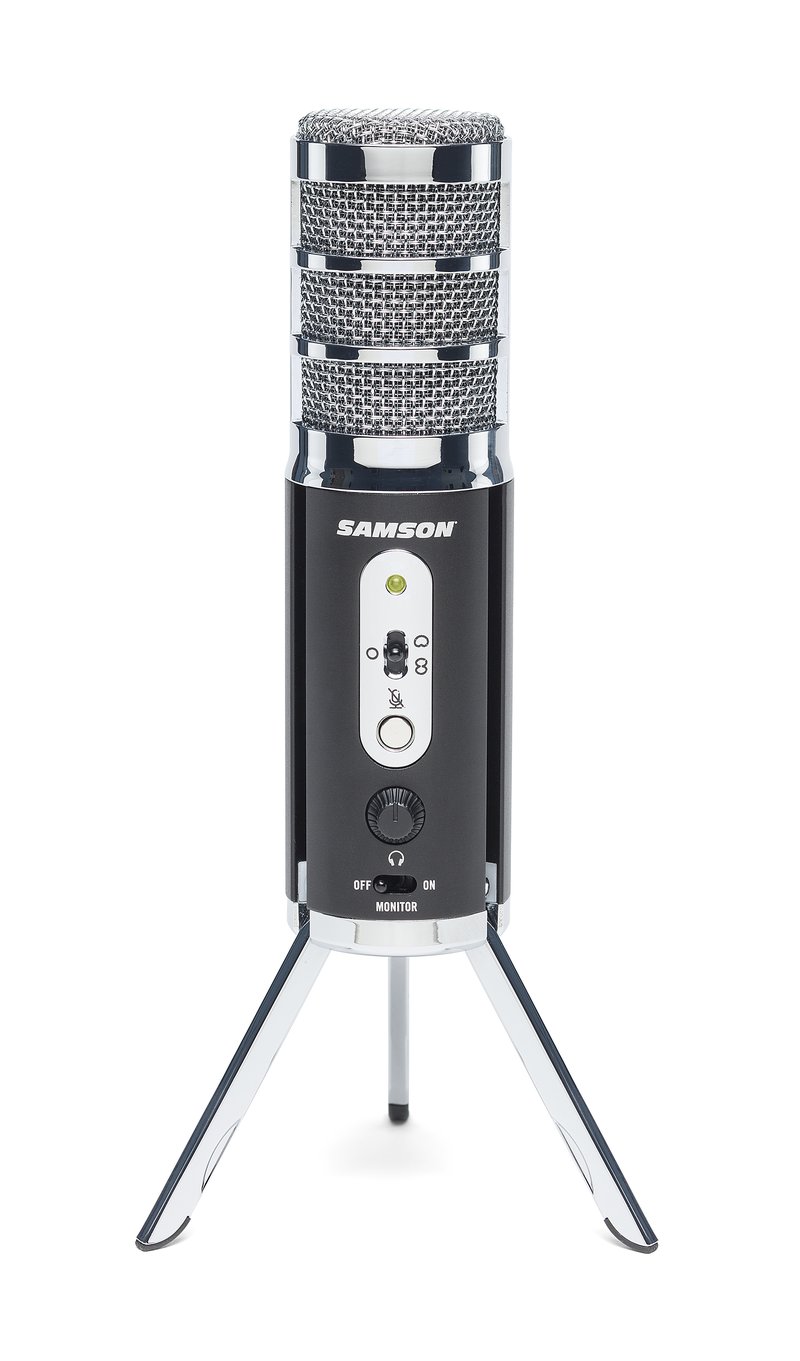 Satellite - USB/iOS Broadcast Microphone
satellite
For instructors who use their smartphones and tablets to create content, the Samson Satellite is the perfect solution. It is a multi-pattern USB/iOS microphone that can connect directly to iPhones, iPads, Android devices, Mac and Windows computers, as well as Chromebooks. The fold-back leg design means the microphone can be quickly setup anywhere without the need for additional stands or adapters. A handy direct monitor switch allows you to switch between hearing your voice directly from the mic capsule or it can be switched off to listen only to the audio coming from your device. There's even threading for mounting to a boom arm or mic stand on the bottom on the unit.
Whether your school system decides on a hybrid or remote learning program or adopts another method, every aspect of how a student consumes content must be considered. While productive interaction between in-room and online students can seem daunting to pull off successfully, it sometimes only takes small changes to realize big improvements to the overall quality. We want to ensure online students don't quickly tune out if they can't hear or participate, as well as keep physically-present students engaged rather than watching teachers stuck troubleshooting computer issues. If you have any questions or comments about how to improve audio in your classroom, please contact us at info@samsontech.com.